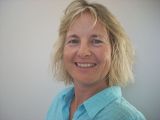 Manuela Da Rin
D.O., M.Sc.(Ost.)

• Born in Geneva, Switzerland, 05/09/1964.

• Studied osteopathy in Maidstone, UK, at the European School of Osteopathy (ESO), GB, graduating 'D.O.' in 1993. Influenced by inspiring teachers such as Tom Dummer, Susan Turner, Harold Klug, Gez Lamb, Peter Blagrave.

• Received a Master of Science in Osteopathy 'M.Sc. (Ost.)' from the University of Greenwich and the European School of Osteopathy in 2003. This degree included Osteopathic Care of Children, Paediatric Osteopathy, Neuro-Osteopathy I and II (Professor Frank Willard), Advanced Pathophysiology & Neuro-Anatomy (Professor Don Prashad), Research Methodology and Data Processing.

• Thesis on 'A literature Review and Critical Appraisal of Instrumental and Laboratory Research in Osteopathy'.
• Practiced Osteopathy in UK from 1993-2005 since then, practices in Australia, Queensland.

• Member of the ESO faculty from 1993 until 2004, teaching 'Fundamentals of Osteopathy' with Harold Klug, 'Physiological Relationships within Osteopathy' with Leslie Smith BSc, MSc (physiologist) and Osteopathy in the Cranial Field with the ESO international faculty in Russia, Norway, Switzerland and Italy, with Susan Turner and Charles Lim.
• Worked at the Osteopathic Centre for Children in London from 1993-1999 inspired by Stuart Korth and Susie Booth.

• Taught in Osteopathic Children's Clinics:
-Russia, St Petersburg (1998) with Susan Turner and team
-Sri Lanka (2006)
-Western Australia, Busselton (2007-11)

-Switzerland,Crans Montana (2009-11) Swiss Osteopathic Center for Kids (SOCK)
-Italy, San Marino (2006-15) San Marino Foundation for Paediatric Osteopathy
-Italy,Bagno di Romagna, Pianconvento, Study group 2014-2019
-Italy, Pomaia near Pisa, guest lecturer organised by Unityop, June 2017-2018
-Germany, Landsberg am Lech, The Bavarian Pediatric School & Clinic for Traditional Osteopathy, 2014, 2016, 2018
-Germany, Kassel, Osteopathic Children Foundation, Osteopathische Kinder-Stiftung, 2016-2019


• Post graduate training in the US with Dr James Jealous since 1995.

• Member of the faculty of the Biodynamics Program of Dr Jealous, lecturing in Australia, New Zealand, Switzerland,UK, Italy, Germany

• Contributed to chapter 20: Vaccination in 'Textbook of pediatric osteopathy', by E Moeckel and N. Mitha, Edition Churchill Livingstone, Elsevier 2008

• Speaker at the Australian Osteopathic Association conference, October 2008, Queensland
• Speaker at the 15th International VOD Congress,The Embryo and the Health, October 2012, Weimar, Germany
• Speaker at the

SCCO, Head First Conference

, June 2017, London, United Kingdom

• Registrants of: Osteopathy Board of Australia (AHPRA)
Osteopathy Australia
General Osteopathic Council UK (GOsC)

• Associate Member of the Foundation for Paediatric Osteopathy - Osteopathic Centre for Children (London-UK)
• Associate Member of the San Marino Foundation for Paediatric Osteopathy
• International affiliated member of the American Academy of Osteopathy (AAO)